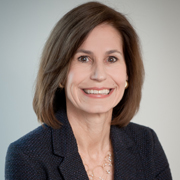 Catherine ("Katie") Long works with individual and corporate clients to help them achieve their business goals.  In addition to working on sports-related matters for firm clients, she provides legal representation, advice, and counsel relating to a wide spectrum of commercial transactions and general business matters.
An Atlanta native, Katie began her legal career in Washington D.C. in 1995 at the law firm of Covington & Burling.  During her seven years as an associate at Covington, she worked with large corporate clients as part of the firm's litigation, insurance coverage, and white collar criminal groups.  After returning to Atlanta, Katie was a partner at Tatum Levine and Powell, LLP, where she provided legal counsel and services to start-up and growth companies relating to corporate and transactional matters, as well as to individuals with business legal needs, such as advice on severance agreements or shareholder disputes.  Katie joined Evan Appel to form Appel & Long LLP in 2014.
Prior to entering private practice, Katie served as a law clerk for Judge Francis D. Murnaghan, Jr. on the U.S. Court of Appeals for the Fourth Circuit.  Before law school, Katie spent six years as an award-winning print journalist, first for The Marietta Daily Journal and then The Atlanta Journal-Constitution.
Katie is a graduate of the Boston University School of Law (where she graduated magna cum laude and served as an editor of the Boston University Law Review), the University of Virginia, and The Westminster Schools.  She is a member of the Sports Lawyers Association, American Bar Association, State Bar of Georgia and Atlanta Bar Association.
Katie has served as a member and as Chair of the Board of Directors of Kate's Club, an Atlanta non-profit organization dedicated to supporting children and teens who have lost a parent or sibling, and she continues to serve on the Advisory Board.  She performs pro bono legal services for various local non-profits and has provided pro bono legal representation to death row inmates and indigent residents of the District of Columbia.