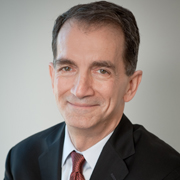 Evan Appel brings a business understanding of college and professional sports to his law practice.
Throughout his more than 30 years in practice, Evan has handled a wide range of transactions in both college and professional sports and regularly works with college conferences and college athletic departments, most often in media, sponsorship, and events. In these engagements, he has advised and consulted on and negotiated a wide range of transactions, including assisting college athletic departments in licensing of aggregated or "bundled" multimedia and marketing rights, negotiating and structuring television/multimedia agreements for college conferences, sponsorship and marketing rights agreements, event agreements, and consulting and employment agreements. Evan has also worked with conferences and athletic departments in developing and executing Requests for Proposals in several contexts, including to evaluate and select licensees of multimedia and marketing rights as well as site hosts for conference championships and tournaments.
Evan began his law practice in 1984 with Troutman Sanders in Atlanta, where he practiced for three years before joining Long Aldridge & Norman (now Dentons) in 1987. Evan practiced for more than 15 years at Long Aldridge, first as an associate and the last 11 years as a partner. He co-founded the firm's Sports & Entertainment practice in 1996, principally representing sports properties with their media, marketing, sponsorship and event agreements. Evan also represented local bidding and organizing committees which were successful in being awarded high profile national sports events for Atlanta, including the Super Bowl and the NCAA Men's and Women's Final Fours. Once the events were awarded, he worked on behalf of the local organizing committees with the National Football League and the National Collegiate Athletic Association (as well as numerous business concerns in the Atlanta community) to assist with the presentation of the events. Evan has since served as Vice President of a sports marketing firm and as a partner in several boutique law practices.
Evan has spoken on a variety of sports business and legal topics at national conferences presented by the Sports Lawyers Association, the National Association of College and University Attorneys, and the Promotion Marketing Association, as well as at local, state and American Bar Association-sponsored seminars. Before law school, Evan worked in radio and television.
Evan is a 1980 graduate of the University of North Carolina at Chapel Hill (B.A., Journalism) and a 1984 graduate of the University of North Carolina at Chapel Hill School of Law. He is a member of the Sports Lawyers Association, National Association of College and University Attorneys, and the State Bar of Georgia. Evan holds the AV Preeminent rating, the highest rating given by Martindale-Hubbell.